Seattle software developer Microsoft has had some more information leaked about its yet-to-be-announced Office suite of applications for iOS devices.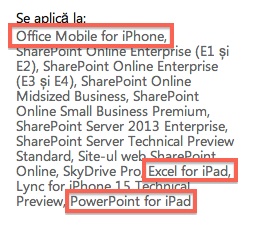 This has been covered by a piece published by the Apple news website MacRumors, following on from the French site Mac4ever.
It states: "Microsoft has, however, been rather cryptic in its public comments on the Office for iOS project, leaving a number of questions about just what the company's plans are, [but] references to several Office for iOS applications have begun creeping into Microsoft's support site, albeit as product tags that appear to have been applied improperly to support articles."
"One example is a document addressing custom numeric formats in Excel. On the support site for the United States, the document is listed as applying to Excel 2013, while on the French support site it is incorrectly listed as applying to Excel for iPad, " adds the title.
"Searches for similar phrases throughout Microsoft's support site yield a number of other references, including "Excel for iPad", "PowerPoint for iPad", and "Office Mobile for iPhone".
Ending with – "While the appearance of these new product tags doesn't offer any additional information on Microsoft's plans, it does seem to confirm the products' existence and that the company is working toward building out support site infrastructure for them ahead of their debut".
Omio reported last month on leaked screen shots of this application appearing online, along with a version for Android. This latest info could show their release is imminent, perhaps at Las Vegas' CES.
Tags: Apple, iOS, Microsoft Office