Omio is rounding up all the mobile phone reviews over the past week from the major tech titles in the UK.
This is all in order to bring you an all-inclusive and encompassing view of the opinions, from the various handset reviewers.
Pocket-Lint
Finding a compact phone with flagship specs is something of a rarity these days, with many manufacturers delivering smaller-screen devices in the mid-range instead. Not so the Sony Xperia Z3 Compact, a device powerful enough to stand up to its larger-screen rivals.
Unlike most other Android smartphones with screens typically 5-inches or larger, the Z3 Compact fits neatly into hand and pocket thanks to its 4.6-inch panel. That will make this portable powerhouse desirable for many seeking something smaller. But is it worth your cash?
Verdict
There's so much to like about the Sony Xperia Z3 Compact. It's one of few devices as powerful at this size, offers great battery life, is well designed and fully packed with features. Sony's pricing at £429 undercuts the rival Samsung Galaxy Alpha by a considerable margin, making it an even more enticing proposition.
As much as we love the Z3 Compact and almost everything it does, there are still some small niggles. It arrives just over six months after its predecessor, there's some software overkill, the camera app doesn't load as fast as we would like, and the screen still isn't best in class despite doing a decent job.
We also can't help but look at the larger Sony Xperia Z3 and its more resolute display – bigger movie playback, more gaming space, a better browsing experience also sounds enticing – but then there's the inflated cost to consider.
But it's that last thought; that lure to the larger screen that also highlights just how good the Z3 Compact is. Because whatever your preference, big or small, Sony is offering a choice without having to worry about sacrificing performance. Like the Sony Xperia Z1 Compact, the Z3 Compact is a great – and importantly a little – flagship handset. We're yet to see a better Android device at this size. Read the full Sony Xperia Z3 Compact review on Pocket Line.
– Check out all the Sony Xperia Z3 Compact deals on OMIO, today!
Reghardware
Samsung doesn't invent anything: it just "copies Apple." Even judges say so. The only explanation for the new iPhone 6 Plus, then, is that Samsung copied it early.
As the South Koreans have been quick to point out, Cupertino's 5.5-inch telefondleslab appears three years after the 5.3-inch Galaxy Note first introduced the concept of a mobile phone the size of a paperback.
Widely derided by the same kind of people who thought it would look silly to take photos with an iPad — normal people, that is — the Note sold well, shifting 10 million units in a year. So, at the same time as shrinking the iPad, Apple, it seems, set about growing the iPhone.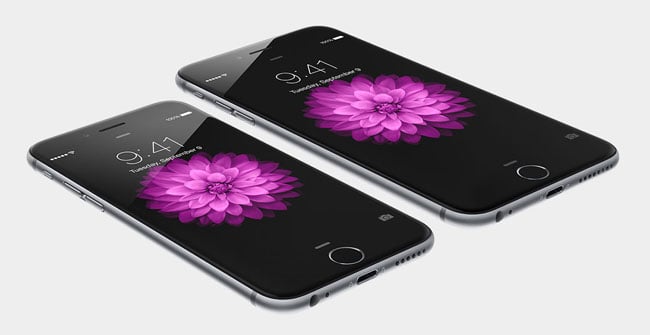 The Reg Verdict
If you've been waiting for an Apple phone the size of a Samsung phone, this is it; and even if you've never seen the point, the bigger screen has an undeniable attraction in the flesh. Just be sure to try before you buy, because compared to any other iPhone it's a very different machine to own.
Technically, meanwhile, the 2208×1242 to 1920×1080 scaling is so obviously suboptimal that the iPhone 6 Plus feels like a stopgap, launched to establish a class of device before the technology had been fully worked out. It doesn't seem fanciful to wonder if, like the iPad 3, it might be rather speedily replaced. Read the full Apple iPhone 6 Plus review on The Register.
– Check out all the Apple iPhone 6 Plus deals on OMIO, today!
Stuff
Turning up to the party late may be fashionable, but Amazon is several years late in bringing out a phone. There are only three ways for Amazon to go with the Fire Phone given how tardy it is: go cheap, go different or go home.
At £399, the Amazon Fire Phone certainly isn't cheap, but it is different.
In fact, in several ways the Fire Phone slips into downright weird territory. And while we're all for devices carving out a niche, we don't want a niche for niche's sake, and that might be a trap that Amazon's fallen into.
VERDICT
After endless speculation, the Fire Phone has arrived. And it's a disappointment.
It just doesn't make a great deal of sense for most people. Its key feature, that array of front cameras, is spectacularly pointless after the first five minutes. And while some may claim it's a simpler and more accessible alternative to other Androids, we found it a good deal trickier to get on with. It's not that simple, it's not intuitive, and the alternatives it offers for Google's app suite just aren't as good.
There are also no real benefits to buying a cottage within this Amazon 'walled garden', either. Amazon is naturally desperate to get everyone to use Kindle, the Appstore and Instant Video, and that means you can already get these services on other Androids. And even iPhones.
Add to this a camera that, while competent, requires a bit of know-how to get the most out of and you have a phone that isn't really well-tailored to the more casual buyer who might be tempted by the gigantic Fire Phone ads on amazon.co.uk.
Learn to use the Fire Phone and it's certainly not a terrible piece of hardware. But it just doesn't cut it at £400. Not when there are phones such as the OnePlus One, LG G3 and Moto G (2014) available for similar money or less.
Aside from earning you a free year of Amazon Prime services (if you buy one in 2014), we can't think of a convincing reason to buy it over a cheaper 'normal' Android phone. Read the full Amazon Fire Phone review on Stuff.
– Check out all the Amazon Fire phone deals on OMIO, today!
TechRadar
BlackBerry's square-shaped new flagship is here, and it's just as weird in real life as it looks in the promotional pictures. It's a square, boxy little device with a metallic trim and a dumpy physical keyboard attached to the bottom. Ergonomics? Screw 'em.
And yet, dig a little deeper and there might just be something there after all. The 4.5-inch slab boasts a 2.2GHz Qualcomm Snapdragon 801 processor and 3GB of RAM.
There's 32GB of storage, a microSD slot and a rear-facing 13MP camera. In other words, the Canadian company has thrown everything at this device when it comes to specs.
It's not a cheap phone either: it's £529 for a SIM free version ($599, around AU$680) and free on a £30 to £35 a month contract in the UK – meaning it's up there with the iPhones, HTC and Samsung phones of the world.
Verdict
I'm confident in saying this is the best phone BlackBerry has yet produced, hands down. There's serious processing power, copious amounts of storage, a decent camera, plenty of connectivity, useful software features and an HD screen.
What I'm also confident in saying is that there's no way this is going to supplant a regular smartphone like the HTC One M8, Samsung Galaxy Alpha or iPhone 6 as your main device. At best, it'll be a secondary, work-focused piece of tech that'll be relegated to a specific set of tasks.
BlackBerry has succeeded in doing something different and producing a new device that sums up everything it is as a brand. That is a brilliant thing, and to those that feel this is aimed at them (medical professionals, entrepreneurs, the email-obsessed) then it should be up there as one of the first phones you consider.
But for everyone else, this is unashamedly a productivity-centric machine that'll let you take your work around with you. What it's not is the market's best new smartphone. Read the full BlackBerry Passport review on TechRadar.
– Check out all the BlackBerry Passport deals on OMIO, today!
Trusted Reviews
The Samsung Galaxy Alpha is a 4.7-inch Android phone and more importantly the company's first ever metal phone. It's not all metal in the same way that the HTC One M8 or the HTC One Mini 2 are, but it's a welcome move after a long series of plastic-only phones.
Sitting between the S5 Mini and the Galaxy S5, the Alpha costs the same as the iPhone 6 and clearly comes with ambitions to bite into some of those potential Apple sales. In its own right, this is a great 'small' Android phone, but we can't help feeling disappointed that new look aside it doesn't offer a great deal more than the larger S5.
Verdict
The Samsung Galaxy Alpha is a beautiful-looking phone, it's just a shame it misses out on some of the S5′s most impressive features. Read the full Samsung Galaxy Alpha review on Trusted Reviews.
– Check out all the Samsung Galaxy Alpha deals on OMIO, today!
uSwitch
Motorola Moto G (2nd Gen) review
Hang on, another Moto G? Yes, this is the third incarnation of Motorola's budget handset, not to be confused with the original from last year, or the 4G model.
2014′s take brings a bigger screen, upgraded camera, and dual SIM card slots, though it keeps the same low price of £150 SIM free.
Verdict
The Moto G isn't perfect, but for £150 it doesn't have to be.
What you get for your money is a solid handset that does all the basics you could ask, and a few more besides.
Sure, there's no 4G, and the camera – though fine for everyday shooting – is still a bit poor.
But when it comes to the bargain bin, the Moto G is definitely near the top of the pile. Read the full Motorola Moto G (2nd Gen) review on uSwitch.
– Check out all the Moto G (2nd Gen) deals on OMIO, today!