Omio is rounding up all the mobile phone reviews over the past week from the major tech titles in the UK.
This is all in order to bring you an all-inclusive and encompassing view of the opinions, from the various handset reviewers.
The Register
BlackBerry Classic Review
BlackBerry has looked into the abyss and seen … a vintage BlackBerry staring back. Two years on from a catastrophic "modernisation", BlackBerry has finally made a modern BlackBerry that people who used and liked a classic QWERTY keyboard BlackBerry will feel right at home with. Which accounts for the name. Natch.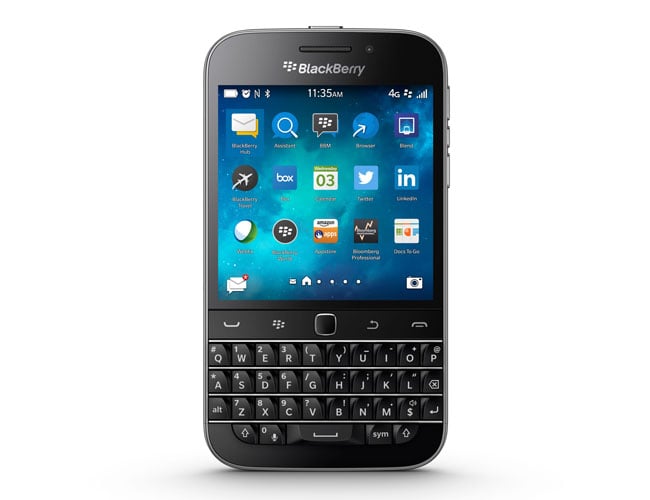 The Reg Verdict
Ruthlessly aimed at persuading enterprises to upgrade their thousands of Bold users, the BlackBerry Classic is a powerful tool in its own right. It also adds a welcome bit of diversity to the market. Read the full BlackBerry Classic review on The Register.
– Check out all the BlackBerry Classic deals on OMIO, today!
HTC Desire Eye review
Some people love selfies. Some people loathe selfies. Some people put cameras on sticks to get better selfies.
Whichever camp you're in, there's no denying that in a world where so many lives are micro-blogged into oblivion, selfies have become important. The HTC Desire Eye is one of the most obviously selfie-obsessed phones ever made.
Phones are starting to use higher-res sensors for their front cameras, but the HTC Desire Eye jumps all the way up to a 13-megapixel sensor, with a dual-LED flash. That's more than many 'main' phone cameras get.
You're probably thinking — this can't be good news, a phone that's all about a single gimmick? Well the big surprise here is that the Desire Eye is almost the inverse of the Facebook-bothering narcissist it might appeal to. Yes, the front camera will grab a few headlines, but almost every other element of the phone is rock-solid, making it a real contender in the £400 weight class.
VERDICT
The HTC Desire Eye is the sort of phone that might initially make you groan. A phone based around selfies? You must be joking.
However, it's turned out to be one of this year's pleasant surprises, performing well in just about every respect with the selfie skills there to provide a bit of attention grabbing pizzazz.
Were it not for the current crop of absolutely beltingly brilliant phones that are now available for similar or less (we're looking at you, Moto X and LG G3) the Desire Eye would be getting the full five stars. As it is, we're looking at a very capable, very likeable four starrer that should be promoted to first choice by those who really love a selfie. Read the full HTC Desire Eye review on Stuff.tv
– Check out all the HTC Desire Eye deals on OMIO, today!
Google Nexus 6 review
Google Nexus 6 is a supersized version of the new Moto X that has been given a two-handed booster shot and appropriately received a post-surgery Lollipop. The results? It's among the best phones to date.
This phablet-sized smartphone is the first to run Android 5.0 Lollipop and, really, there's no better way to experience all of the changes Google has made to its operating system.
It parades the colorful new Material Design interface on a massive 6-inch display, moves seamlessly between apps thanks to the latest Snapdragon processor and 3GB of RAM, and lasts all day in most cases with a Qi-chargeable 3220 mAh battery.
These Nexus 6 specs are enough to edge-to-edge out Apple's mighty iPhone 6 Plus. It feels better to hold in my hand, and typing is easier thanks to Androids always-superior keyboards options
Final Verdict
The death of the Google Nexus program has been greatly exaggerated, and this year's stock Android phone ironically resulted in an exaggerated Moto X. Its tremendous display, premium specs and debut of Android 5.0 Lollipop make one of the best phablets to date.
That's not to say it's the perfect phablet. Without Moto Active Display, customizable voice command features and Moto Maker options, $649, £499 (around AU$700) would normally be a big ask.
Luckily, this just happens to be the best Nexus Google has ever crafted. And, when you think about it, you're not going to need to hold onto your money, as you'll require both hands to grab onto this two-handed monster. Read the full Google Nexus 6 review on TechRadar.
– Check out all the Google Nexus 6 deals on OMIO, today!
Microsoft Lumia 535 review
The Lumia 535 is Microsoft's attempt to make the ultimate budget phone and right the wrongs of the disappointing Lumia 530. Out is the small 4-inch screen; in is a large and trendy 5-inch one. Out goes the rubbish fixed-focus camera; in comes autofocus and an LED flash. It's a comprehensive improvement in most areas.
It also includes features no similar phone can match, such as a wide-angle, 5-megapixel front-facing camera aimed at the selfie takers out there. With a dual-SIM version also available in some regions – notably India – the Lumia 535 appears to tick all the right boxes for a cheap smartphone. It's a shame, then, that a few careless niggles let it down.
Verdict
A good option if you need a cheap dual-SIM phone, but there are better alternatives for single-SIM users. Read the full Microsoft Lumia 535 review on Trusted Reviews.
– Check out all the Microsoft Lumia 530 deals on OMIO, today!
BlackBerry Classic review
In keeping with its name, the BlackBerry Classic appears to have gone back to the days of auld, resurrecting a familiar design and familiar features in what looks like a bid to appease past customers.
Is this blast from the past point to a bright new future for BlackBerry or is the Classic a sign of a phone-maker that has run out of fresh ideas? Read on to find out more.
Verdict
BlackBerry customers old and new will find something familiar, in this solidly build, QWERTY keyboard phone.
However, a dedicated keyboard isn't for everyone.
The Classic's appeal is most likely primarily to businessmen, for whom email is number-one priority and anything else is a bonus.
It's a shame that an addition of the BlackBerry 'tool belt' had to be so significant for it to fall under the name of Classic.
This phone should have really been the BlackBerry Q5 or Q10, offering its customers more of a gentle upgrade slope rather than pushing them off a cliff.
In the end that cliff left them to contend with a completely new OS, and completely new hardware. Perhaps too much to cope with, all at once.
Here's hoping that more gentle improvements are seen next, instead of big leaps. Read the full BlackBerry Classic review in uSwitch
– Check out all the BlackBerry Classic deals on OMIO, today!