Omio is rounding up all the mobile phone reviews over the past week from the major tech titles in the UK.
This is all in order to bring you an all-inclusive and encompassing view of the opinions, from the various handset reviewers.
Pocket-Lint
Motorola announced the original Moto G in November last year and it ended up becoming one of the greatest phones of 2013 thanks to its performance, lovely design and, perhaps most importantly, a budget £135 price tag.
It was a game-changer in the smartphone arena, not only for making such devices more widely accessible but also for encouraging the introduction of other decent entry-level smartphones. When Motorola then introduced the 4G version (complete with a microSD slot) the Moto G became almost untouchable in a league of its own.
Less than a year later the company has launched the second-generation Moto G and although it comes with a bigger screen and better camera, this is one device that has its work cut out for it to live up to its predecessor. We've been living with the Moto G 2014 to see if bigger really is better or if it slips behind an original that might be too good to beat.
Verdict
The price was the key to the original Moto G's success and we suspect it will be a similar story for the 2014 model too. For £150 you get a lot for your money, including a decent display, very good battery life, ample performance and an improved camera, as well as microSD storage expansion and a raw Android operating system experience with some useful extras.
However, with its new 5-inch screen the larger Moto G brings a new design that – and this is partly thanks to the metal bar speaker grilles on the front – we just don't like as much as the original. The larger form factor feels bulkier and heavier (even though the figures suggest it's reasonably insignificant) that make for a different experience.
The absence of 4G may also seem an oddity – especially when the interim Moto G model offered such connectivity, so we wouldn't be surprised if yet another 5-inch Moto G appears with 4G in the near future – but when price is king that's not such a surprise.
We might not like the 2014 Moto G quite as much as the original model from last year, but we still never felt like we were compromising on quality or experience. The choice of accessories and interchangeable backs means you can make this device into your own without it costing you an arm and a leg. And at £150 the Motorola Moto G 2014 is a steal. Read the full Motorola Moto G (2014) review on Pocket Lint.
- Check out all the Motorola Moto G (2014) deals on OMIO, today!
The Register
Absent for almost a year, BlackBerry has returned to the fray with the striking Passport, an updated OS and Blend – a secure desktop companion for the phone.
There are two distinguishing features in this device: first, its display is square and very wide. Secondly, it has a capacitive physical keyboard. The questions are: is the square form factor more than a novelty? Does the new keyboard really improve the typing experience? Is a wide heavy device comfortable in practice, and if not, is it worth it?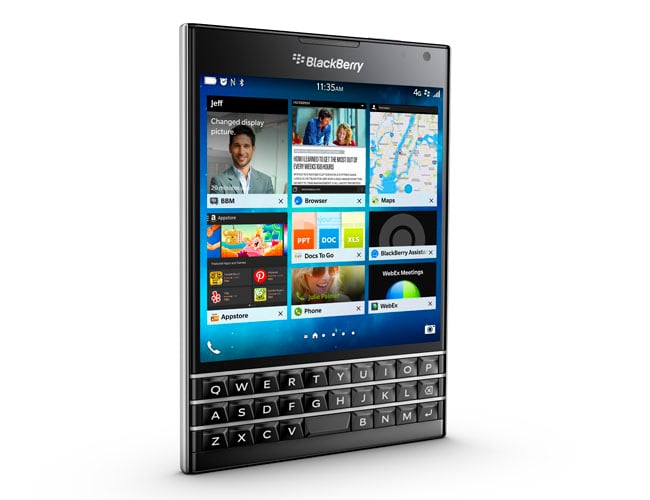 The Reg Verdict
BlackBerry returns with an highly unusual design that's uncompromisingly aimed at two groups: enterprise users and those looking for powerful complementary "second phone". The Passport showcases one great innovation – a capacitive multitouch physical keyboard. While this holds great promise – and BB10 is maturing into a strong platform for business and power users – in reality, the Passport doesn't integrate the UI and the keyboard well. Indeed, its assertive shape and bulk will repel all but the determined. Read the full BlackBerry Passport review on The Register.
- Check out all the BlackBerry Passport deals on OMIO, today!
TechRadar
The Sony Xperia Z3 Compact is the latest entrant in Sony's rapidly expanding line of Xperia Z handsets. Though the original Xperia Z was only launched in March 2013, there have since been three main entries into Sony's flagship line (the Xperia Z1, Xperia Z2 and the new Xperia Z3) along with tablets and the occasional compact variant.
The Sony Xperia Z3 Compact is the smaller version of Sony's latest flagship smartphone, the Xperia Z3. As has become customary with Sony's compact variants, the Xperia Z3 Compact shares quite a bit of technology with its bigger brother, but is it more than just a shrunk down version?
With a 4.6-inch screen (compared to the Xperia Z3′s 5.2-inch) and an asking price of £429 (around US$703, AU$792) , the Xperia Z3 Compact is one of the more expensive mini variants of flagship smartphones that we've seen.
Verdict
There's a lot to really like about the Xperia Z3 Compact. Though Sony seems to be putting out new Xperia Z models every six months, you get the feeling that with each iteration it is steadily improving the formula.
Sony has also avoided offering a severely cut down version of its flagship device. Where other manufacturers will cut the specifications of the mini variants, the Xperia Z3 Compact keeps a lot of the features of the bigger Z3, making the compact an excellent choice if you fancy the Z3, but are not too sure about the large size of the handset.
The integration of Sony's services and their appeal will depend on how invested you are in the Sony ecosystem. The PlayStation 4 remote play feature probably has the biggest mainstream appeal, and I'm looking forward to testing the feature when it goes live. However, with other Android devices being able to use this feature (though after being rooted), this may dull the impact of this 'exclusive' feature.
Heat issues are my biggest disappointment with the Xperia Z3. I don't mind a handset getting warm when being used from time to time, but when it starts to affect the performance of certain apps and features it spoils what usually is a very impressive experience.
However, if you are looking for a feature-packed phone that looks fantastic and performs brilliantly, then you'll be very pleased with the Xperia Z3 Compact. Just don't expect to shoot epic 4K movies with it. Read the full Sony Xperia Z3 Compact review on TechRadar.
- Check out all the Sony Xperia Z3 Compact deals on OMIO, today!
Trusted Reviews
The Sony Xperia Z3 is the Android phone follow-up to the Xperia Z2, a phone that only launched six months ago. So, how much can you improve things in such a small space of time? Well, not by a great deal it seems. There's a minor bump up in power, some improvements in the camera department and now it's all wrapped up in a slimmer, lighter body. The good news is that all of the things that made the Z2 so great, like the great screen, mammoth battery life and blistering fast performance are still intact.
It's the best Z phone yet in spite of such an iterative update and is in great company with the One M8, Galaxy S5, LG G3 and the iPhone 6. When the next Xperia phone arrives, though, we expect Sony to raise the bar more.
Verdict
This is the best Sony phone so far but for Z2 owners, it's worth waiting out for the Xperia Z4 or whatever Sony decides to call its next Xperia flagship smartphone where hopefully we should see something more radically different.
- Check out all the Sony Xperia Z3 deals on OMIO, today!
uSwitch
After years of pumping out plastic phones in its Galaxy S range, Samsung has made a metal handset.
But don't get too excited. The Galaxy Alpha isn't carved from a single piece of aluminium like the iPhone 6 or HTC One (M8). The back is still plastic. It just has a metal frame.
Still, considering it charges about the same for its phones as Apple and HTC do for their flagships, it's progress.
But does it put enough distance between it and other Samsung smartphones? Let's take a look.
Verdict
In many ways, the Galaxy Alpha is a triumph. It's small yet powerful, with a great camera, and much better build quality than the S and Galaxy Note ranges.
But the screen could be better, it's a shame you lose the waterproofing, and it certainly isn't cheap.
We suspect Samsung is testing out the design to gauge reaction before implementing it on the Galaxy S6. It would be a welcome departure for Samsung's flagship range. Read the full Samsung Galaxy Alpha review on uSwitch.
- Check out all the Samsung Galaxy Alpha deals on OMIO, today!
iPhone 6 Plus review
When it was locked in its latest round of litigation with Samsung, a leaked court document said it all. 'Consumers want what we don't have,' the tech giant admitted.
The Cupertino company was of course referring to larger smartphones. 'Phablets,' if you will.
Fast forward six months and Apple has two new capacious phones designed to wrest back control from ailing Samsung and reassert its dominance in the smartphone space.
But while the smaller 4.7–inch iPhone 6 is aimed at the broader market, the larger iPhone 6 Plus is more intriguing.
Steve Jobs said that 'no one's going to buy a big phone'. He was wrong.
Phablets made up more than a quarter of all smartphones sold in the first quarter of 2014 according to analyst firm Canalys. And that number continues to grow.
So, is Apple's super size smartphone worth ditching your Galaxy Note 3 for? Read on and we'll reveal all.
Verdict
Apple's first phablet can be seen as a qualified success.
Its size means there will always be some users who find it too cumbersome to use, but its bright display, superb camera and easy–on–the–eye design make it a winner overall.
If you can look past the price tag and fancy switching back to Apple now it's finally seen the light when it comes to bigger devices, then this is the phone for you.
- Check out all the Apple iPhone 6 Plus deals on OMIO, today!